Magic Realism Paintings
The paintings of Alwin Kok take you to a world where reality and imagination melt together into a new reality. His passion is to paint landscapes and city views, with or without people in it, situated in unexpected backgrounds. All immensely colorful and with an incredible eye for detail, which creates that clear and vivid experience.
Alwin lives in the old city of Deventer, along the river IJssel in The Netherlands. He has over 40 years of experience in oil painting, both on canvas and on panel.
For more information, please visit his website: www.alwin-kok.nl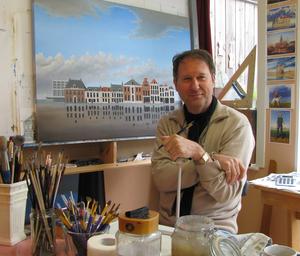 Painting of the very old city Zutphen The Netherlands